Not all Opportunities in VOMO are the same. Anytime Opportunities do not have specific dates. Learn how to create Anytime Opportunities for volunteers to log hours served or items donated.
To create an Anytime Opportunity follow the first four steps on this article and when you get to the "Needs" section select the "Anytime" option. Here are a few options (and Advanced Options) that can be customized on your Anytime Opportunity:
Customize End Date
Anytime Opportunities by default will not have an End Date, but you can specify one here. Simply check this option and in the box that appears, select the date you wish this Opportunity to end by. This will be helpful if you add donation items to this Opportunity.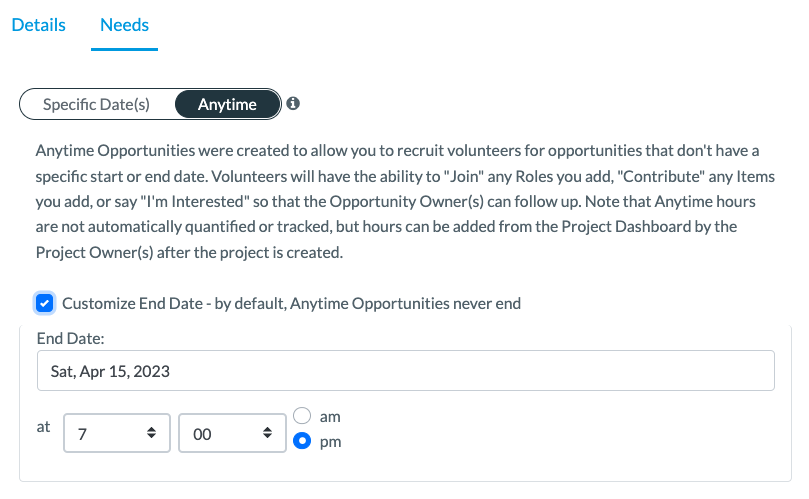 Customize Needs
Anytime Opportunities can have Roles and Items added to them. Simply check this option and then add Roles and/or Items using the drop down menu options. Specify the quantify of each as well. You can add as many roles and items as you wish. Remember that because this is an Anytime Opportunity, there will not be serving dates associated with these Roles and Items. Only an End Date if you specified on in the previous option.

Display Number of Participants?
"Display number of participants?" options will show the number of people that have expressed interest on the Opportunity page.

Publish Opportunity
When you are finished setting up the details and dates, in the top right corner of the page press Save As Draft or Publish Opportunity. "Save as draft" will save the Opportunity to your "Draft" list in the blue menu on the left and "Publish Opportunity" will post this Opportunity on your Volunteer Hub.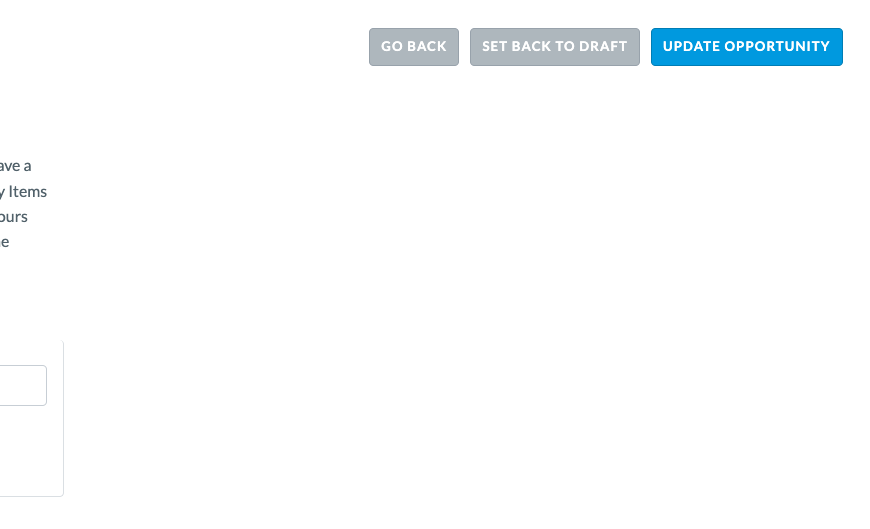 Manage an Anytime Opportunity
Anytime Opportunities are more than just a generic sign up page. You can track items donated, track volunteers logging their hours and more. Learn how to manage your Anytime Opportunity now that you've created one!