Create and publish a new project with dates and volunteer roles, or make it "anytime" to gather interested volunteers. Donation items can be added as well.
Follow these simple steps:
1. Visit your Admin Dashboard by clicking on the link in your Profile dropdown.
2. When the Dashboard opens, use the menu on the left and select Projects.

3. In the top right corner of the page select New Project.

4. Fill in the necessary information and photos provided under the first tab called Details.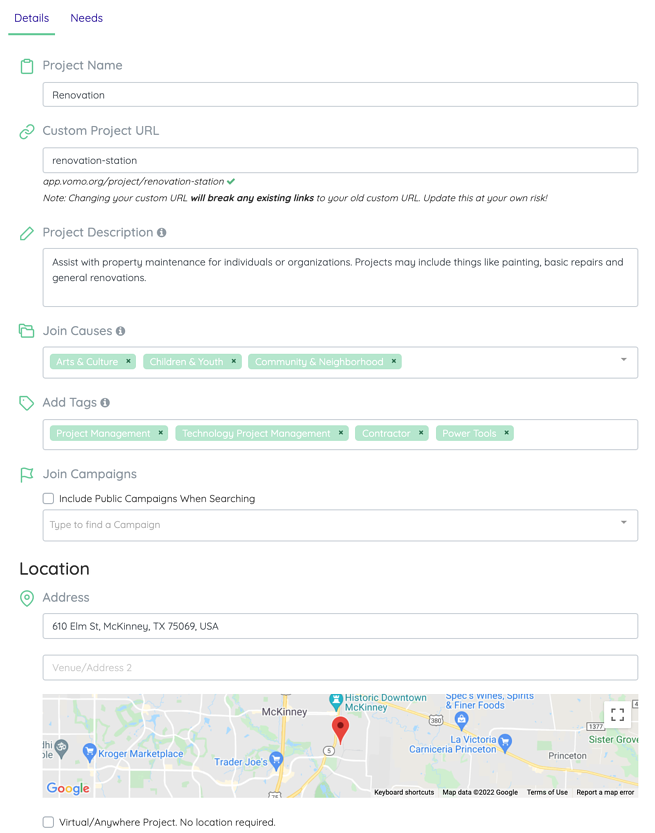 Choose a clear Project Title and include all the details in the Project Description.
Choose up to three (3) Causes and twenty (20) Tags to make your Project more prominent in search results when Volunteers are looking for causes, skills, gifts, talents, etc. that match their interests.
Join your project to a Campaign hosted by your organization or add it to a Public Campaign hosted by another organization in the VOMO network.
Specify the Location where this project will take place or select Virtual/Anywhere if there is no specific location.
Use the Advanced Options if you need them for Privacy/Approval Settings or to add Point People, Attachments, and Links to your Project. Learn more Advanced Options here.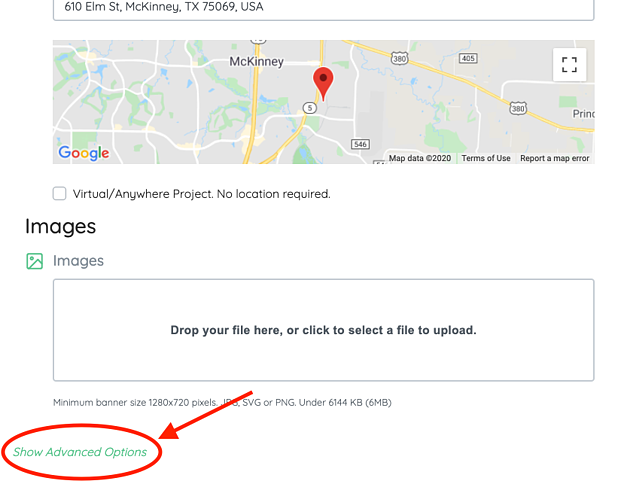 5. Click on the Needs tab. If you Project has serving dates and times, begin adding them. If not, consider making it an Anytime Project with an end date instead. Learn more about Anytime Projects. If your Project has specific dates and times, learn more about multiple time slots and recurring dates.
With every project you have the option of creating an Anytime project or add specific Dates and Roles. Donation Items can be added to specific dates and Anytime projects.
Add the necessary needs; including dates, custom roles, donation items, and capacity for each Serving Date.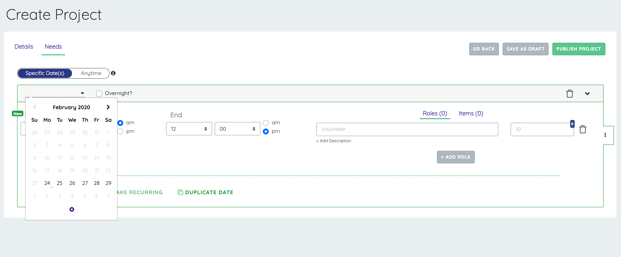 6. After ALL of the necessary information is filled, click "Publish" to immediately publish your project live for volunteers to join.
If you'd like to save it as a draft to complete at a later date, select "save as draft." On the Draft projects page of your left Menu Bar will be a list of draft projects waiting to be published.