Admins and Organizers can invite volunteers to create their own VOMO user account. You will use the People page in the Admin Dashboard.
Invite a Few
Navigate to your Admin Dashboard.


From the menu on the left select People.


To invite a few volunteers, type or paste their email addresses in the input section. Make sure to select "volunteer" as their user role before clicking Send Invites.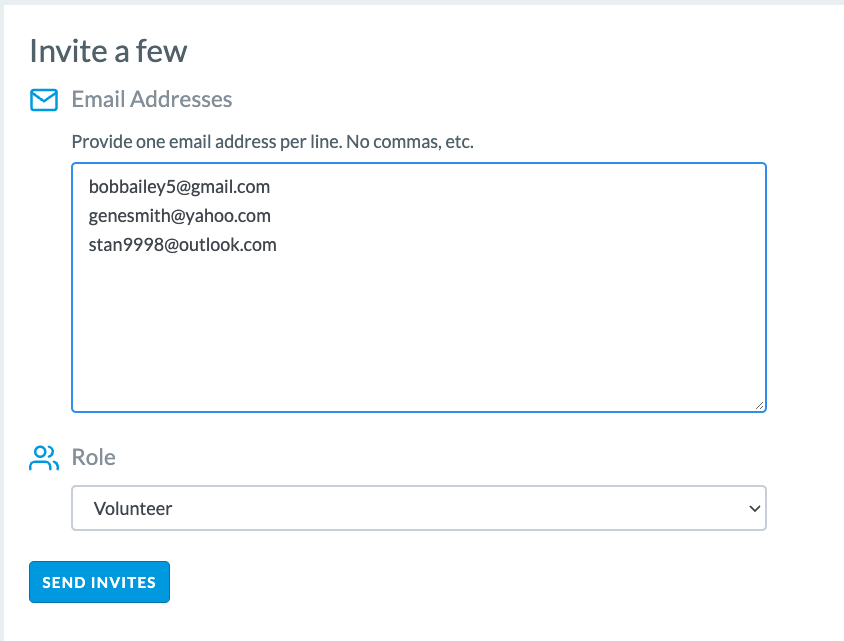 Bulk Invite
To invite a large list of volunteers, scroll down to Bulk Invite. You will have to upload a CSV document with the names and emails (required) of the volunteers you are wanting to invite to be active users in VOMO. Download the appropriate template (Microsoft Excel and Google Docs are supported). Replace the sample info with the appropriate info for your volunteers. The following data can be imported when inviting a volunteer:



Email (required)
First and Last Name
Phone
Background Check Date

: the date they received a cleared background check status.

Groups

: group(s) that you want to add the volunteer to in your People section. These groups (and subgroups) have to already be

created

in your Admin Dashboard first.

Volunteer Notes



Save this the CSV document to your computer in a place you can easily find it.



Back on the Invite People page of the dashboard, select the "Upload a CSV" button.


Navigate to the CSV document you just created and saved to your computer and upload it.

*Once you upload the CSV document email invites will AUTOMATICALLY be sent. So make sure you all of the info is correct before uploading. Everyone on your CSV template will be invited as a "user." So if you want someone to be an "organizer" or "admin" you will need to change their role manually.