Learn how to customize your Hub by creating Initiatives with Opportunities, adding them to channels, and arranging them on your Hub.
What are Channels?
Channels are rows of items on your Hub displayed below the banner and logo images. They allow you to group Initiatives, Opportunities, Opportunities from a specific Initiative, or Child Orgs (if you have an Enterprise package) into their own row or what we call a channel.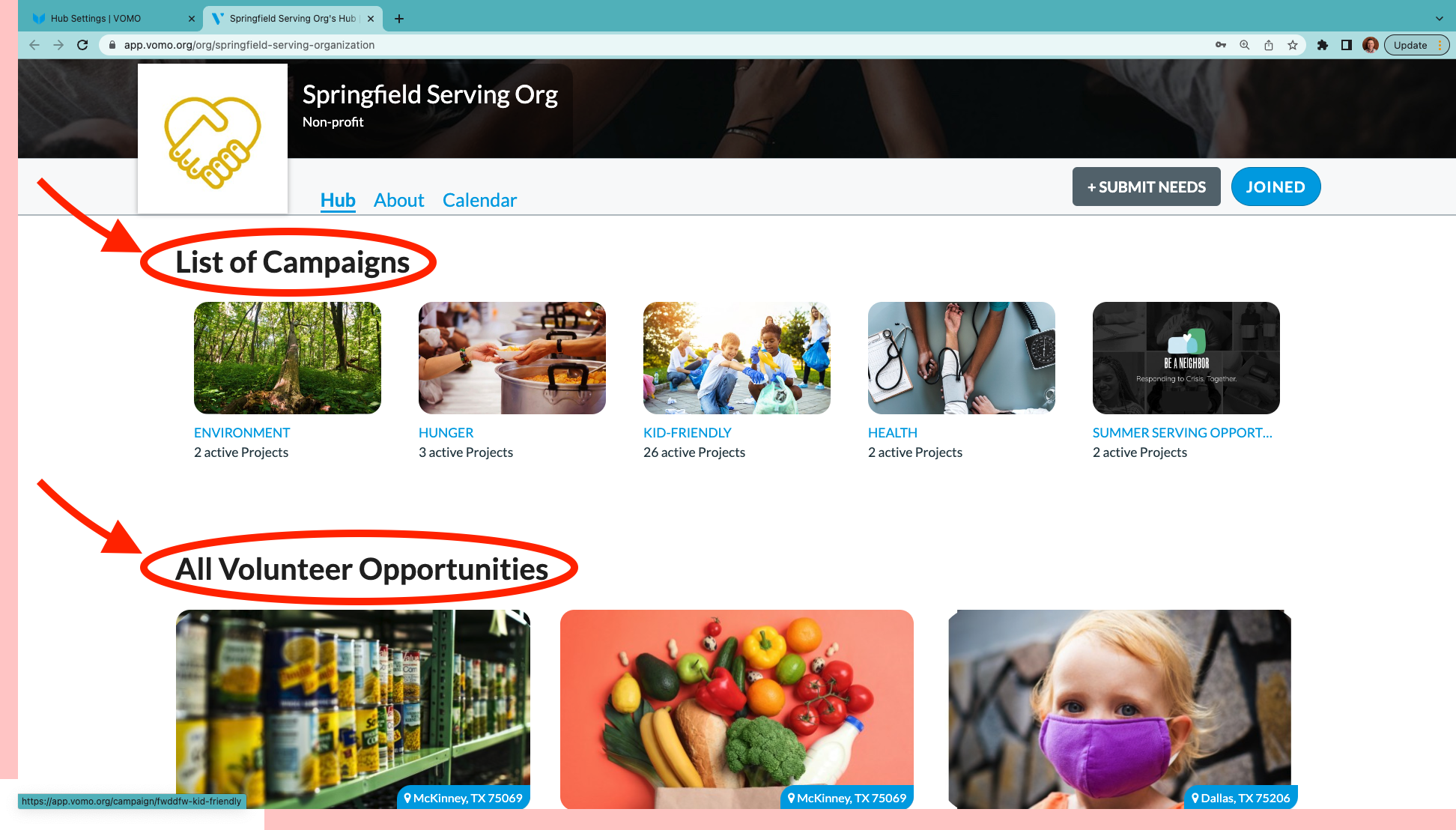 Customize your VOMO Hub
Access your Admin Dashboard.


Go to Settings > Hub Settings section.


Click and drag the channels to either the Enabled Channels or Disabled Channels sections.

Available Channels:

Initiatives (all): All of your organization's Initiatives in a channel.
Opportunities (all): All of your organization's Opportunities in a channel.
Do It Yourself: Examples of Anytime/Anywhere ("Virtual") Opportunities for volunteers to do on their own.
Local Opportunities: All Public Opportunities in VOMO are geolocated based on your location.
Causes: All Opportunities (your and public) are sorted by categories tagged by the Opportunity owner.
Opportunities from Initiative: All Opportunities in an Initiative (one of yours or a public Initiative) in a channel.
List of Initiatives: Similar to "Initiatives (all)" except that you can specify which Initiatives (yours or public) you want to feature in a channel.
List of Child Orgs (for multi-site accounts only): List your child orgs in a channel for volunteers to see on your VOMO Hub.



Options for each channel:

The title of each channel can be changed by selecting "Override Title".
Channels related to Initiatives can add Public Initiatives by checking the box that says "Include Public Initiatives When Searching".




Press the Save button on the top right corner of the screen.



Refresh your Hub to see the changes.