We know that the volunteer experience is important, so we customize your volunteer interfaces (Hub, Campaign, Project, Email Banners, etc.) so that new visitors will know that they are in the right place when they are looking for a place to serve!
In the account setup process for our Platform (formerly Suite) and Enterprise Package subscribers, we will ask that you provide a few branding assets so that we can customize the account from the very beginning. The following items are part of the account build:
Organization Name - The name of your organization that will be displayed on your Hub.
Desired URL Subdomain - The url where your account will live.

ex. [yourorgname].vomo.org

If you want to host the experience on a custom domain, an additional setup fee will apply where applicable. However, remember that you can use a simple redirect to drive people to your new subdomain.

Primary Color - The main color for things like menu bars, button colors, etc.
Secondary Color - The secondary color for links, hover over colors, etc.
Accent Color - In some places we use an Accent color to differentiate where the Primary and Secondary color are not appropriate.
Logo - We use this logo in the top left corner of your volunteer experiences, as well as in the footer. It can be your Organization's main logo, but remember that your Hub also has a space for a logo.

Accepted file types: jpg, png, pdf

Other Logos/Images for your Hub & Email Banner - You can always create your own Hub/Email Banner if you wish (just send those to us). If you do not have the resources for this, our team will create these assets using your logo and colors.

Example Hub Banner (1920x1080 pixels):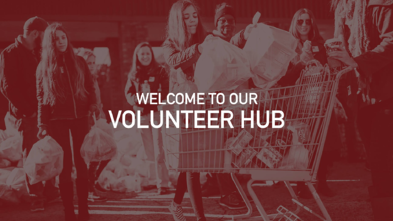 Example Email Banner (1000x500 pixels):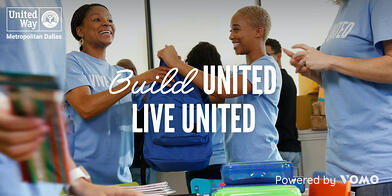 Invite Email Language - You can create the custom invitation email copy that your users will receive this when they get invited to your account. If you do not have a preference, we have default language for you to use. (see screenshot for example)

Welcome Email Language - You can create the custom welcome email language that your users will receive after their create their account. If you do not have a preference, we have default language for you to use. (see screenshot for example)

Email Footer Content - Each email has footer content for things like your org address, links to your website, phone numbers, etc. (see screenshot for example)

Hub Footer Content - Links to your organization's About Us, Contact Us, etc. web pages, as well as any other links you wish to include (link to mobile apps, etc.). List them line by line in the form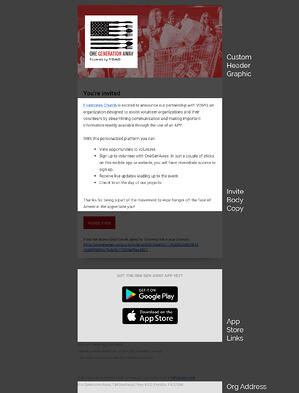 You can see the form here where you will update your branding assets: https://vomo.org/branded-hub-assets/
NOTE: Our team cannot start creating your Branded experience until you submit the above assets for your new account. We are not responsible for creating your entire branding assets if you do not have them already for your organization.