Campaigns are groups of projects that can now be made "public" for other organizations to join. Learn how to enable the public feature for your campaigns. (Add-on Required)
Public Campaigns (Add-on Required)
VOMO now allows you to make your campaigns "public" so that other organizations with VOMO accounts can add their public projects to that campaign. One organization creates the public campaign and then other organizations will be able to add their public projects into that campaign. This simple feature gives you the power to create your own volunteer network with other organizations in your community. Let's get started!
Login to your Admin Dashboard, select "Campaigns" from the menu on the left side of the page.
When your list of campaigns appears, Edit a current campaign or click "+ New Campaign" in the top right corner.
Fill in the required information (Name, Custom Campaign URL, and Description)
For Campaign Privacy select Public so that other organizations can tag their projects to this campaign.
Finally drop in a custom image (Minimum banner size 1280x720 pixels. JPG, SVG or PNG. Under 6MB)
That's it! Your campaign is now ready for other organizations to display their public projects to your campaign.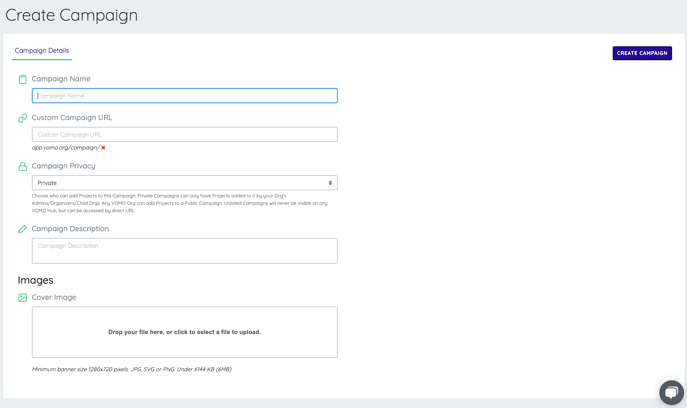 More articles about Public Campaigns: