Analytics tools, data, and metrics are native to every VOMO account. Here you will find all of the numbers for your entire organization and individual volunteers in one place. Navigate to the Admin Dashboard and in the menu on the left select Analytics. We track three categories, Organization, Volunteer, and Opportunity.
Organization Analytics:

Note that all Org Analytic Totals are able to be filtered by a customizable date range. The default date range is 2 years prior to today's date.
Completed Serving Dates

This total represents completed Serving Dates that have at least one volunteer participating, including Anytime Participations in the date range.

Completed Volunteer Hours
Total Economic Impact

The Volunteer Economic Impact Value is calculated using the National Value of Volunteer Time from the Independent Sector's annual report.
Note that we update the Default Economic Impact Value (unless you have customized the value in your Org Settings) in early May every year as the National Value of Volunteer Time is updated in April of every year. This means that if you run a report in April and May you might see a different rate for participations that happen before and after the value is updated.
You are able to set a monetary value for Items (in-kind donations) that you collect from your volunteers. If you do this, you will see the Item Value in this report.

Total Unique Volunteers Activated

If a volunteer has volunteered more than 1 time in the date range, they are only counted once in this report. Within this total we break the number down in the following two fields.

Repeat Volunteers
First Time Volunteers
Gender Breakdowns
Age Breakdowns
Map of All Past Opportunities
Volunteer Resumes: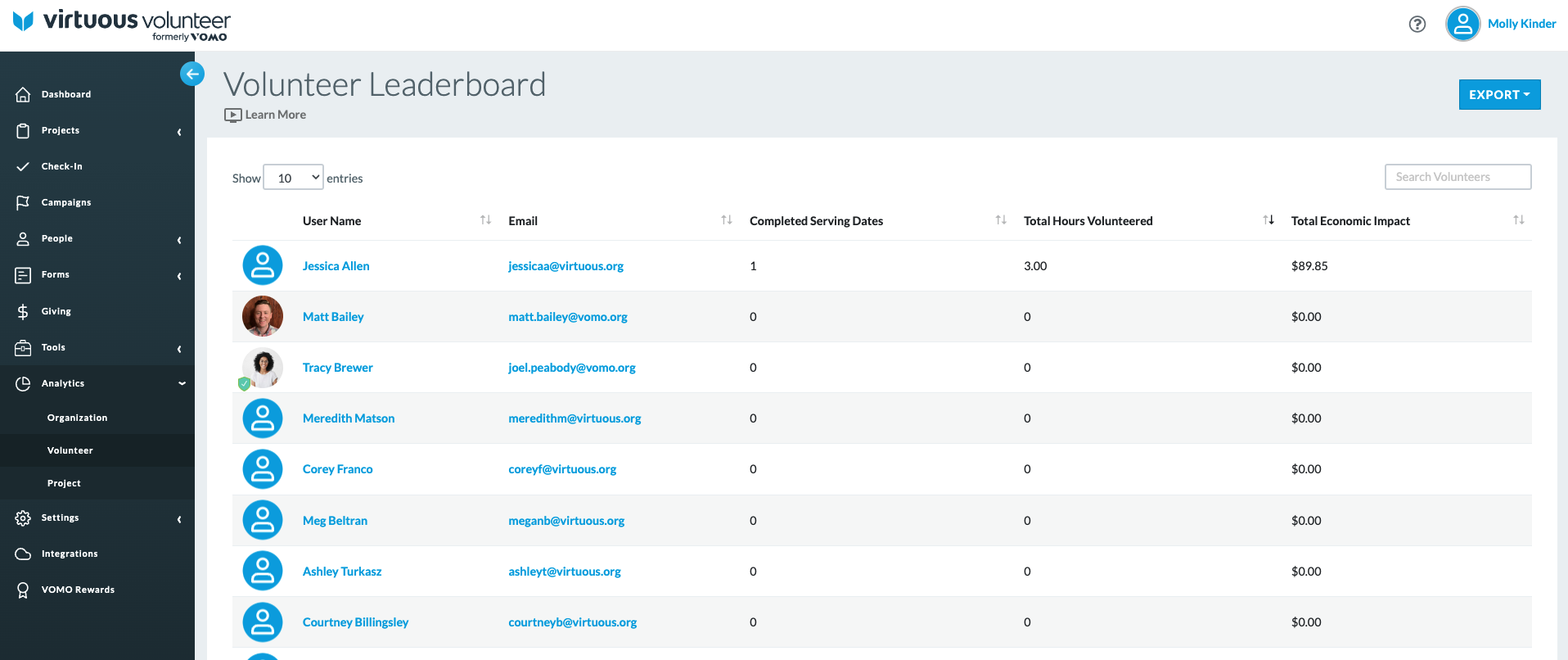 Note that the Volunteer Leaderboard is a running total of volunteer activity since you started using Virtuous Volunteer.
Total Number of Completed Serving Dates
Total Number of Hours Completed
Total Volunteer Economic Impact
You also have the ability to build a custom EXPORT of Volunteer Participations (including over a date range) and User Data into a CSV so that you can work with the data however you need.

Individual Volunteer Resumes:
*To open a volunteer's resume, click on their name in the first column.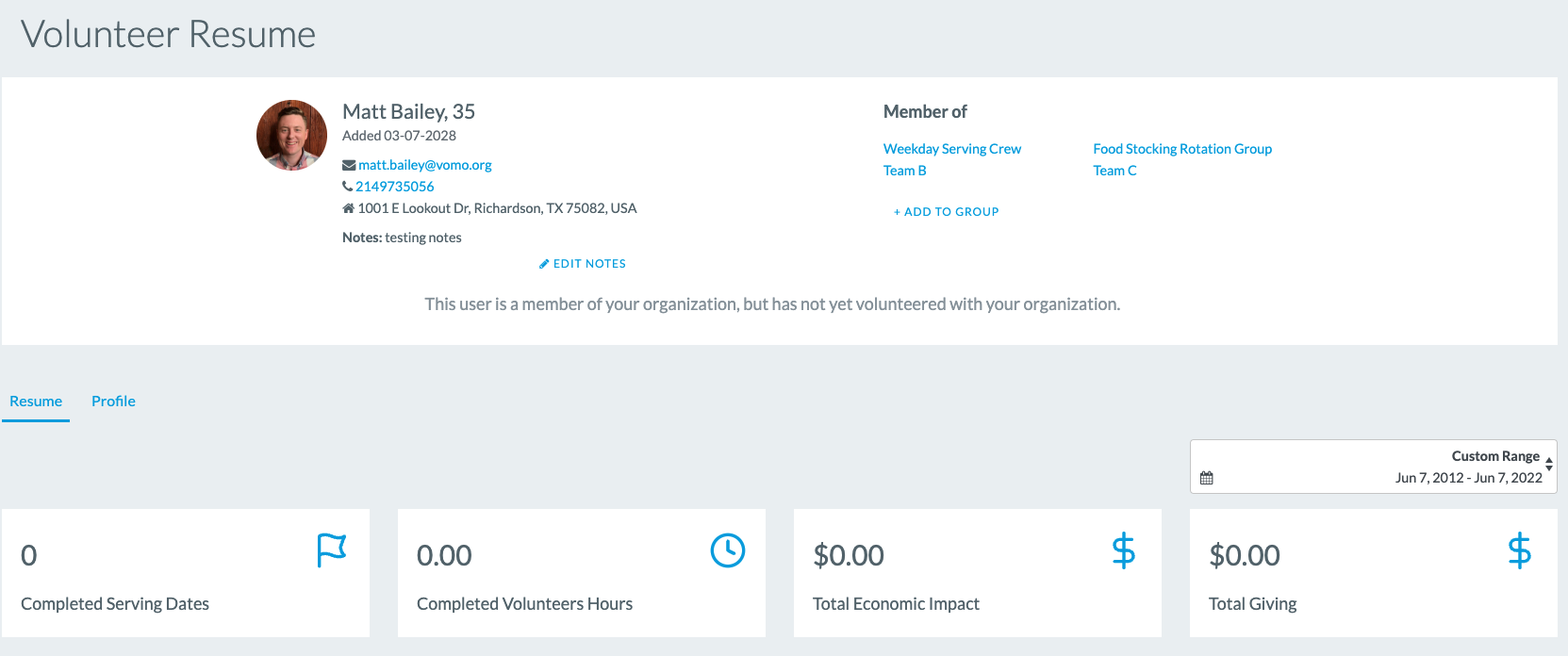 Completed Serving Dates
Completed Volunteer Hours
Total Volunteering Economic Impact
Total Giving (monetary donations)
Top Volunteer Opportunities, Roles, and Organizations
Past Opportunity History
External Opportunities (individual Opportunities submitted and approved by the organization Admin)
"Anytime" Opportunity History
Upcoming Opportunities (future times the volunteer is signed up for currently)
Giving History
External Donations
You can also search specific date ranges as well on each Volunteer Resume.



Opportunity Analytics: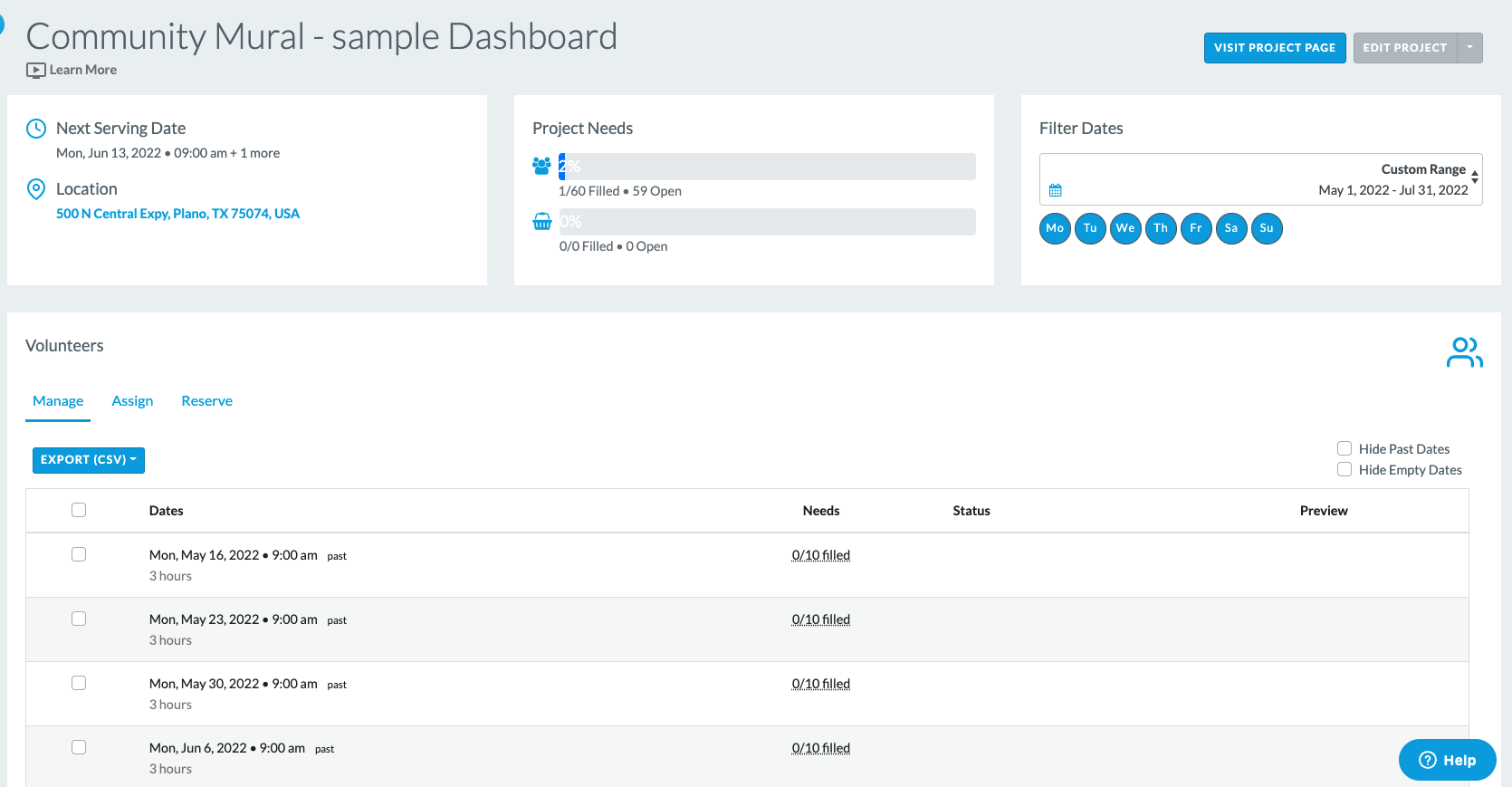 Opportunity Analytics is a dynamic list of your Opportunities (past and active) that allows you to see key data points such as filled and open needs on helpful status bar charts. These can also be sorted based on date (past, present and future). To access a specific Opportunity's dashboard, simply click on the name of the Opportunity in the list of Opportunities.