Learn how to add guests to your reservation when joining an Opportunity.
Adding Guests
VOMO gives an organization the option to allow volunteers to bring guests to an Opportunity. So, if the Opportunity you are joining allows you to bring guests, simply click "Join" on the desired role. Then you can select the number of guests you are bringing by clicking the button with a "+" on it. You will notice that as you add a new guest, a field will appear below for you to fill in their first and last name and email address.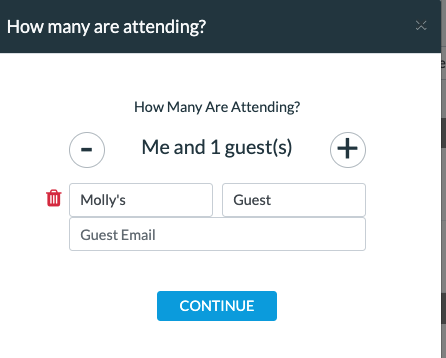 If you wish to bring more than 5 guests you will be prompted to create a request that is sent to the Opportunity Organizer for approval. Type in your reason for needing more guest spots, and the Organizer will be back with you shortly.
Editing Your Reservation
If you need to change the number of guests or edit their name or email, simply navigate back to the Opportunity and find time slot you signed up for. Click the now blue "Joined" button and then "Edit Spot" and you will be prompted to update any info you need to. Then click "Continue" to save the updates you made.
You can also chose to leave the time slot altogether or remove all of your guests as well.