As a Volunteer, you can log hours served and items donated directly to Anytime Opportunities approved by an Organizer. Learn the steps to joining this kind of opportunity and how to log volunteer hours and items you donated to this Opportunity.
Step 1b (Optional). Get Approved to Log Hours/Items
Step 3. Log Hours Served and Items Contributed
What is an Anytime Opportunity?
By joining an Anytime Opportunity, you express interest in a Role and/or an Item requested by this opportunity. This means you are committing to A) fulfill the needs of the Roles and Items you committed to and then B) come back to the Opportunity page and log how many hours you served and how many items you contributed.
What is the difference between Anytime and Date/Time based Opportunities?
Date/Time Opportunities have a specific schedule with serving dates that require the volunteer to commit to. If a volunteer signs up for a specific time on a specific day of the week for that Opportunity they are committing to showing up and serving at that time specified by the host organization.
Anytime Opportunities on the other hand, function the opposite way. A volunteer expresses interest in a role or item that they promise to fulfill in the future on their own time. After the volunteer has served a number of hours and/or contributes items based on the needs of the organization, they can come back to this Anytime Opportunity and log the hours they served and the items they contributed.
How to Log Hours and Items
Step 1. Join the Opportunity
Follow these basic steps to Join an Anytime Opportunity:
Find the CTA (call-to-action) button on the left side of the page and click it.
Select the Role and/or Item you are interested in committing to and click Continue.
That's it! You will now receive a confirmation email. Also, a message will be sent to the Organizer notifying them that you have joined the Opportunity and what Role(s) and Item(s) you have expressed interest in.
Note:
Some Anytime Opportunity will require approval by the Organizer before the volunteer can log hours and item contributions. See Step 1b below for more information.
Jump to Step 2 if this Opportunity doesn't require organizer approval.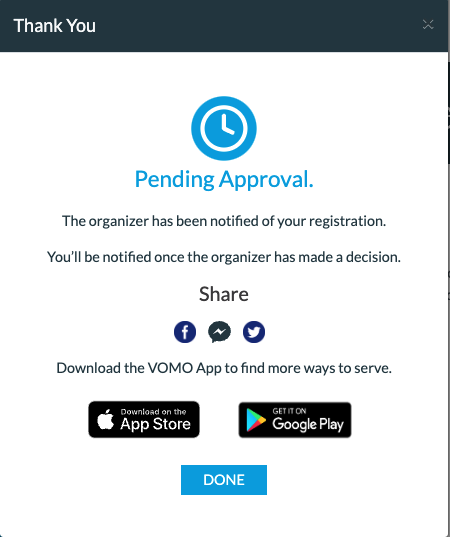 Step 1b (Optional). Get Approved to Log Hours/Items
Some Anytime Opportunities require approval by the Organizer to log hours you served or items you want to contribute. An Anytime Opportunity will have a slightly different approval process than Date/Time Opportunities. Since the first step of an Anytime Opportunity is to express interest in a Role or Item, in this Approval step you are waiting for the Organizer to communicate the next steps to get approved.
Whether it's a background check or some other requirements, the Organizer will communicate those next step to you. Just in case though, make sure to check the Opportunity details that might specify what those next are. After applying for approval to log hours and item donations, you will see the CTA button change to yellow and say "Pending". Look out for communication from the Organizer for next steps.

Step 2. Fulfill the Needs
This step is going to happen outside of VOMO. After you have received approval from the Organizer, go serve and donate based on the needs of the Opportunity you committed to.
If you expressed interest in a volunteer Role, go serve fulfill those requirements outside of VOMO. If you expressed interest in contributing an Item, gather those items and donate them as requested by the Opportunity. Find the Contact Organizer button if you need to speak with someone for more assistance.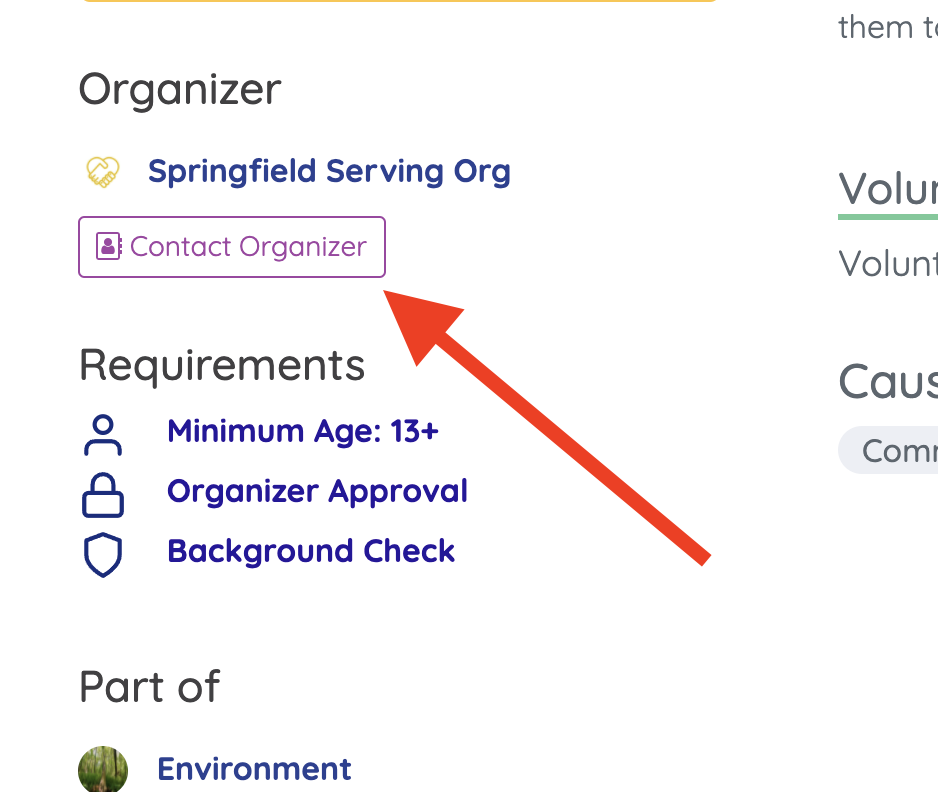 Step 3. Log Hours Served and Items Contributed
The final step is to come back to the Anytime Opportunity's page (the same one you joined) and you will see the CTA button at the top left will now say + Add Hours/Items. Clicking this button will walk you through the process of logging hours served or items you've contributed.
Follow the steps below:
Find and click the button that now says + Add Hours/Items.
Select the Serving Date.
Select the Contribution (the Role or Item).
Fill in the Quantity, the number of hours served or items contributed.
Click Continue to complete the process.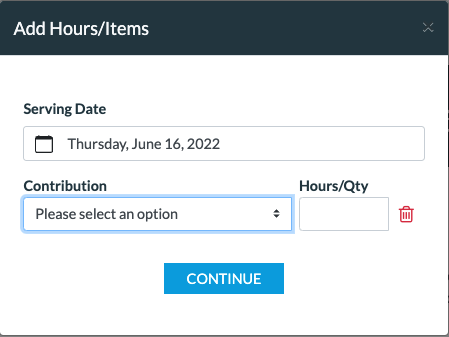 Finished!
You have now logged your hours serve and items you contributed on this Anytime Opportunity. Remember, you can come back and continue to log hours and items you donated as long as the Organizer allows. So get to serving!