Our Privacy Policy details the email communication sent directly through the VOMO Platform. This article will tell you about them.
Organizers who use VOMO Projects to recruit, manage, and communicate with their volunteers have several tools (some automated and some manual) as they communicate to Volunteers signed up for their Projects or in their People Groups.
Three Types of Emails
Automated emails (also known as transactional emails) are sent based on actions that volunteers take when they signup for Projects. The most common transactional emails are confirmation, reminder, and data/reservation change emails. These emails cannot currently be unsubscribed as they are directly associated with a volunteer action.


Manual notifications are sent in two ways: via Group Messaging and/or Project Updates.

Group Messaging allows for members to share projects and message in real time (note: shared Projects in Group Messaging are also sent as one-time email communications).
Project Updates are sent from a Project Organizer when they want to send schedule and send an email/push notification to All Volunteers, Volunteers signed up for a specific Serving Date, or Volunteers in upcoming Serving Dates.

* You will notice an opt out link on Project Update emails so that you can unsubscribe from Project Update emails. Click the link and unsubscribe from future Project Update emails on this specific Project. Note that if you unsubscribe and then join a Serving Date on the same Project at a later date, you will be re-enrolled in Project Update Emails.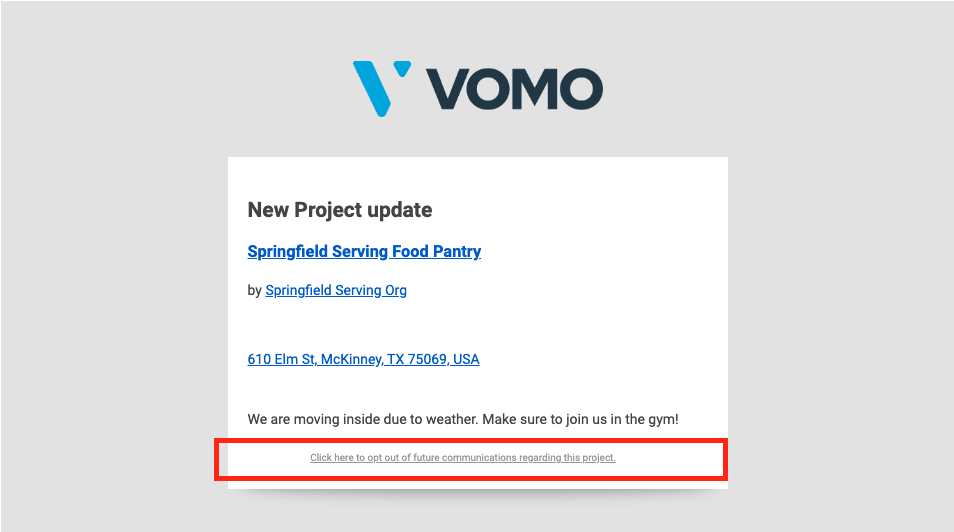 When a user is invited to VOMO they will receive an invitation series of emails to explain the VOMO platform (as well as reminder emails to accept and create their profile). Once your VOMO is created, a four-part welcome series of emails is sent. This welcome series talks about the VOMO Movement and key aspects to using your new account. You can unsubscribe from both invitation and welcome series emails, but that will not opt you out of the system emails for projects and updates mentioned above in #1 and #2.