Yes! Groups in VOMO can exist at 3 levels and volunteers added to Subgroups automatically roll up to the Groups above it. BUT...before you go any further, learn all about creating Groups and Subgroups first.
Now back to volunteers rolling up from Subgroups to Groups! When you add someone to a level 2 or level 3 Subgroup, they're membership will automatically roll up to the groups above those.
Why is this important?
Well, not all groups that come and serve with you are on the same level. You might have a small team that is part of a bigger company that will come and serve. Even if you only need one Group in VOMO to manage that small team coming to serve, your leadership or board might want to know how their entire company did this past year serving with you. Having Groups with Subgroups helps\ track the different layers or levels of these organizations that come and serve.
So, if you add someone to a level 3 Subgroup...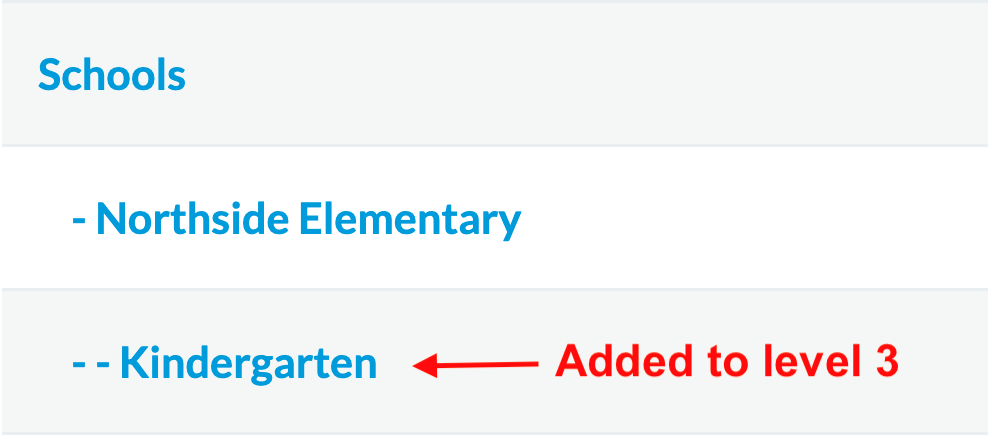 ...you will see them roll up to the level 2 and level 1 groups above it automatically.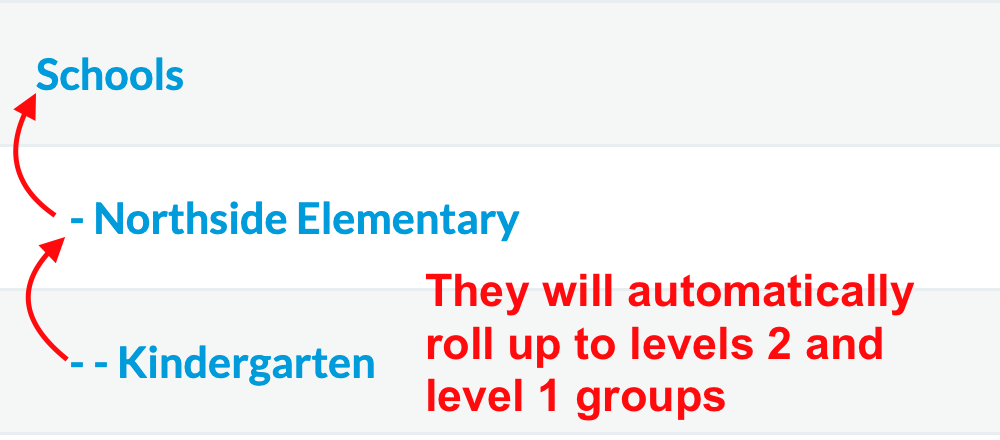 And this doesn't just apply to their membership. Their volunteer history will go with them. If a volunteer served 3 hours as part of a Group Reservation for the Kindergarten subgroup as seen above, those metrics will roll up with their membership to Northside Elementary and Schools above them. That way, you can see accurate participation data at every level.
Additionally, guests of volunteer apply to this rule as well. Say John Smith serves on an Opportunity that has a group reservation for Northside Elementary and he brings 3 guests (AND he provides their names and emails). ALL of those participations will count toward the Northside Elementary Subgroup and will roll up to Schools as well.
A few rules to know:
Members will NOT roll down to the Subgroups below them. They ONLY ROLL UP.

Subgroups at level 2 and level 3 can only be subgroups of the one group above them. Using the example above, you cannot have Kindergarten as a Subgroup of BOTH Northside Elementary and Southside Elementary.
Before diving into the complexities of volunteers rolling up from one level up to the next above it, sit down with your team and map out your current volunteer groups. You can also reach out to your Virtuous Rep for more tips and ideas!